Welcome to ECARS
We would be pleased to have you check into the ECARS net. ECARS is an open service. If you enjoy "ECARS," consider joining. See 'Become an ECARS Member' below and the "Membership: Application / Renewal"

menu option above.

7/276/2016
New/Renewed Members
Welcome to our new and renewed members

(3/10/2017 - 3/16/2017)
:
| | | | | | |
| --- | --- | --- | --- | --- | --- |
| Call | Name | Call | Name | Call | Name |
| N9LOT | Doug | KF4BZY | Barry | W1WAH | David |
| KC2ZFO | Bill | WU2M | Rocco | KA4EMH | Ed |
ECARS Membership Certificates
See additional and revised ECARS Membership Certificate options at Membership: Order Membership Certificate. New options include signed certificates, on various papers, in either portrait or landscape, and mailed to you.

9/1/2016
When Did You 1st Operate ECARS?
ECARS has nearly 50 years of operating history, going back to 1968. Who can demonstrate that they worked, or were members of, ECARS back in the "good old days"? Rick, K3IW, has made an impressive claim of QSOs back to 1969. Jeff, K2CGH, has ECARS QSL cards from 1972/73 when serving as an NCS in his mid-teens after school. Who else has old history with ECARS?


8/1/2016 Modified 12/22/2016
Last Week's
Website Usage
(Week of 3/13/2017 exclusive of Webmaster accesses)
| | |
| --- | --- |
| Page | Pg Count |
| ECARS Home Page | 722 |
| NET CONTROL SCHEDULE | 308 |
| Swap and Shop | 65 |
| Join ECARS Page | 26 |
| NCS Operations / Tools | 24 |
| About ECARS | 20 |
| ECARS Operations Manual | 16 |
| NCS Logging Software | 12 |
| Show Us Your Shack | 11 |
| New On ECARS | 10 |
| Roll Call Schedule | 10 |
| Membership Certificates | 9 |
| ECARS Store | 9 |
| Hamfest Index | 7 |
| ECARS Organization | 7 |
| ECARS Bylaws | 5 |
| From The President | 5 |
| HF Remote Setup N8AD | 5 |
Visitor Number
Since 3/13/2017

Official Announcements
ECARS Service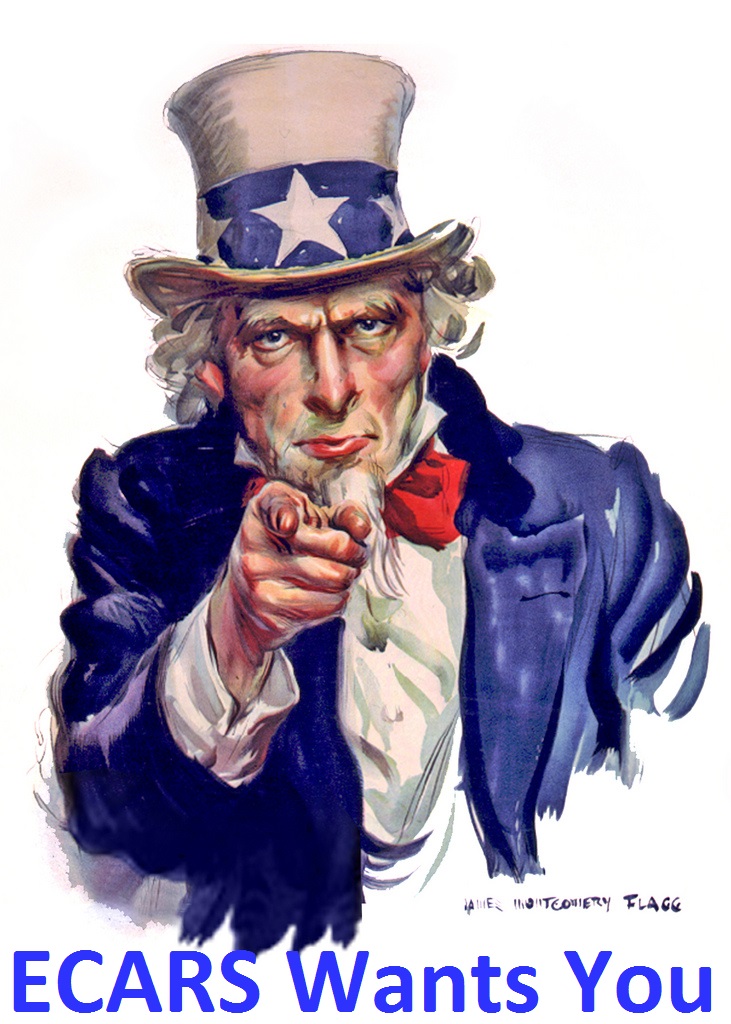 The backbone of ECARS is service by its members for its members.
1/15/2017


Thanks for the Service. We all owe Steve, W1PRK, thanks for his long and faithful service as the ECARS Public Relations and Archivist. Due to the weight of recent medical issues, Steve has decided to resign in this role. He will bre missed. Lets all hope for Steve's healthful recovery.

Net Control Operators Needed To volunteer, contact the Net Manager at
bobgn1@cox.net
Host Needed for Swap and Shop
To volunteer, contact the Net Manager at
bobgn1@cox.net
ECARS Grants The East Coast Amateur Radio Service, Inc. can provide financial support for worthy amateur radio related initiatives. The focus of this grant program is to support Amateur Radio and other non-profit organizations with programs to educate, license and otherwise support Amateur Radio activities with emphasis on youth-based projects. See menu item 'Organization: Apply for a Grant'.

Swap and Shop Submit items for sell, or trade or purchase to Swap and Shop by email to the Webmaster. He will post them on the Swap and Shop page for you.

2/6/2016

End of Official Announcements
Become an ECARS Member
The annual dues are $3.00 per year, and you can subscribe for 1 or 3 years, or for a lifetime membership. Applications can be submitted either by mailing a paper application form, or by submitting electronically using the PayPal® application option.

If using the PayPal® option, use the 'Membership Level' drop down box to select either a 1 year, 3 year, or lifetime membership. Be sure you always provide your current call sign when submitting an application or renewal.

See the 'Membership: Application / Renewal' menu option. After submitting your application, you can check that your membership has commenced using the 'ECARS Member Lookup' option above in this column, but be patient. It will take a while for it to show up.
7/16/2016
Member Information Changes
If you have changed your Call Sign or email address please see "Membership: Update Membership Data" page for instructions about how to update them.

7/16/2016
Show Us Your Shack
It is always a pleasure to see how other Hams have set up their Shacks. So, ECARS has a section of the website dedicated to showing pictures of member's shacks. If you have not done so already, share your pride and joy on the website.
Follow the menu option above to view member's shacks. See the instructions for submitting your "Shack" photo for inclusion in the slide show on the "Operations: Show Us Your Shack" page. This is for ECARS members only.
7/16/2016
Propagation Information
»»
WWV Solar Indices ««


Space Weather Prediction Center
»»
Space Weather Overview ««


»»
D-Region Absorbtion Predictions
««
»» Dashboard ««
»»
FoF2 Map
««